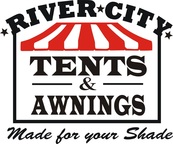 River City Tents & Awnings
specializes in tent, table, and chair rentals for outdoor events. We also offer new and used tents for purchase. We are an in-house manufactuer of event tents, awnings, and tarps using the highest quality materials available. Our rental service area includes all of Arkansas, and our neighboring states as well. *
Please note that mileage fees will apply.
Rentals
We have the largest inventory of tents available for rent in Arkansas. All of our tents are manufactured with 13oz flame resistant vinyl, and come in a variety of festive colors and sizes. Our rental inventory includes solid white tents, perfect for elegant outdoor weddings & parties, as well as red/white, blue/white, and yellow/white stripe tents for a more colorful look. We also have a large rental inventory of beige plastic folding chairs, and 8 ft. rectangular beige tables for your event seating needs.
Sales
Tents available for purchase include used tents from our rental inventory, or new tents made with your specific color(s) & size preferences. We also offer lettering and graphics application for complete customization of your new tent purchase. We can ship or deliver tent purchases to anywhere in the United States.
*Please note that shipping or mileage fees will apply.
We also manufacture custom-made protective coverings, and tarps. With our in-house metal welding and heavy vinyl/canvas sewing shop, we can custom make many items.
Awnings
Our vinyl and canvas awnings are custom made to fit the specific needs of your home or business. There are a variety of beautiful solid colors, or stripe fabrics to choose from, and flame resistant fabrics are offered as well. We can repair damaged awning frames, re-cover your existing awning frame with a new cover, or manufacture a new awning frame. We can also add lettering and graphics to your new awning purchase. Our awning service area covers all of Arkansas. We offer free awning estimates! Call today.
Please contact our office at 870-247-5856, or toll free at 877-423-8184 for estimates, and pricing information.
To view photographs of some of our tents and awnings, and to find out more about our company and services, click the links at the top of the page. You can also visit our
facebook
® page to see more photographs.
Serving all of Arkansas & our neighboring states
---